5/10/2017
Steelmakers for Košice 2017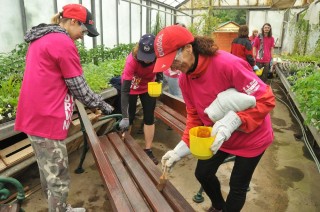 Author:
U. S. Steel Košice
Košice, May 10, 2017 – On May 12 and 13 (Friday and Saturday) the company event named U. S. Steel for Košice Volunteer Days will be held for the 11th time in a row. Around 400 volunteers are going to help nine organizations. The inhabitants of the region are invited to join in giving blood and contributing to the collection of useful things for crisis and homeless centers.
The Volunteer Days start off with the Steelmakers' Drop of Blood donor drive on Friday morning at the Košice-Šaca Hospital Transfusion Unit in the U. S. Steel Public Access Area, where about 100 volunteer blood donors are awaited.
On both days steelmakers and members of the public will be able to donate adult and children's clothing, bed linen, and kitchen and bathroom products for the Archdiocesan Charity Košice Crisis Center for mothers with children, the ETP Slovakia community centers and the Oasis of Hope homeless center in Bernátovce. These organizations will also appreciate functioning home appliances as well as all kinds of school supplies and IT equipment such as cell-phones or tablets for children's education. Retired steelmakers who are members of the Autumn of Life civic organization have been helping with this collection for many years. For this reason the collection points will be in their organization premises at 24 Trieda SNP, as well as at 2 Južná trieda from noon to 6 pm on Friday and from 8 am to 3 pm on Saturday. At 2 Južná trieda they will also be collecting gardening tools, seeds and seedlings, or superfluous building materials.
On Saturday from 8 am to 1 pm the volunteers will be helping to improve the premises of the Forrest Gump Club for disabled youngsters on Užhorodská Street, and carrying out work on the Children's Historical Railway in Čermeľ Valley. Dozens of helping hands will also be put to good use in maintaining the extensive grounds of the Botanical Gardens and the Zoo, as well as of the Animal Shelter near Haniska.
"It is not important whether volunteers come from the private or state sector, from a large or a small company; what is essential is their willingness to help without expecting reward. I am proud of our employees who prove every year with their enthusiasm and hard work how useful a contribution can be made for the benefit of others," said U. S. Steel Košice President Scott Buckiso at the beginning of the event. This year again he will be rolling up his sleeves and helping his colleagues at the Animal Shelter, Botanical Gardens, and the Children's Railway.
Further information from:
Ján Bača   
Director, Public Affairs
U. S. Steel Košice, s.r.o. 
Tel.: +421 55 673 4476
E-mail: jbaca@sk.uss.com