8/17/2017
Summer ice-hockey school finished by match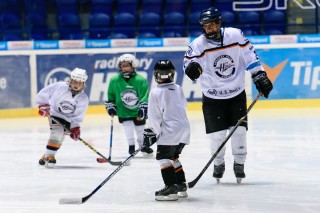 Author:
-c-
Forty-five ice-hockey talents in age from 6 to 11, including children attending a corporate project "Your chance for game" have attended a summer ice-hockey school in the Steel Arena in period from August 7 to 11, 2017 under a leadership of HC Košice veteran - Mr. Peter Bartoš.   
Before a formal closing ceremony of the event that included awarding of attendance certificates, two children teams have played an ice-hockey match under the leadership of their "captains" - Mr. Scott Buckiso, a President of U. S. Steel Košice and Mr. Peter Bartoš, a head of ice-hockey preparatory school.
This successful event was closed by autograph session of HC Košice league players  Ladislav Nagy and Jiří Bicek and foreign club players Joakim Lundström, Jereh Pulli and David Pacan.