Cheerful atmosphere at Alpinka



Traveling on a train pulled by the unique locomotive "Katka" passed by really very quickly. No one realized that they had to leave the train so soon. In the beautiful valley of Čermeľ, a very pleasant and, as it appeared later, successfully spent afternoon was waiting on Saturday, September 20 for the families involved this year in the corporate project: "We are with you at the right time", as well as a group of boys and girls from our partner foster homes in Nižná Kamenica and Sečovce .  All this happened in the presence of U. S. Steel Košice President Scott D. Buckiso and General Manager Compensation & Union Relations Adriana Mihálová.
"I am glad that you have come here. Welcome. I have worked in three different countries and in four states of the USA, and I have always been very impressed how our company cooperates with the surrounding communities and with the people who need our assistance.  Today, I am again proud of our company and especially for what we do for people who live in the neighborhood of this factory.  I believe that we will enjoy this day and will feel great together," the President of the steelmaking company told the children as well as the adults shortly before they all enjoyed a good lunch.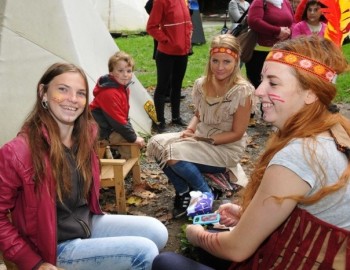 A variety of options for having fun and playing sports followed the lunch. Everyone just had to decide what to choose. In the nearby "Údolie Manitou" (Manitou Valley), participants in the trip first learned a real American Indian dance and then, divided into two tribes, they visited sites with various interesting activities and workshops. Everyone who was interested in making a headband could try and decorate it with many-colored feathers, or they could learn to tie Indian bracelets, paint totemic figures on their faces, but also to learn to shoot with a bow and arrow. The bolder ones among them had a unique opportunity to test their skills on high ropes, either at a lower or even a greater height. Many of the children simply jumped on the trampoline as much as they wanted. This nice day full of rich experiences ended with enjoying a very tasty stew.