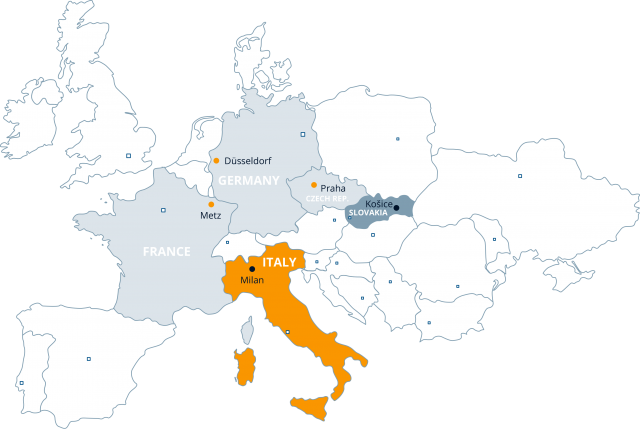 Sales Office U. S. Steel Europe
- Italy
S.

r.l.
           

Since its foundation in 2012 Sales Office U. S. Steel Europe - Italy S.r.l. has always been U. S. Steel Košice key reference point for the promotion and marketing of their products on the Italian territory. Currently our team's efforts are focused on the marketing of hot rolled, cold rolled and coated products (coils, sheets and strips) in different grades for a wide range of applications. Our goal is to increase U. S. Steel Košice share on Italian market through continuous improvement and commitment to excellence. We're working towards our goal by focusing on our customer's satisfaction, increased flexibility and velocity while responding to their needs and maintaining, with help of the mill's technical and commercial staff, the highest levels of security, reliability and quality of service. Currently U. S. Steel Košice distributes over ¼ million tonnes per year on the Italian market.

Dalla sua fondazione nel 2012 Sales Office U. S. Steel Europe - Italy S.r.l. è sempre stato un importante riferimento per U. S. Steel Košice nella promozione e commercializzazione dei propri prodotti sul territorio italiano. Attualmente il lavoro del nostro team è concentrato sul marketing dei prodotti laminati a caldo, freddo e rivestiti (coils, lamiere e nastri) in diverse qualità e destinati ai più molteplici utilizzi. Il nostro obiettivo è quello di far crescere la posizione di US Steel Košice sul mercato nazionale italiano attraverso il miglioramento continuo e l'impegno verso eccelenza. Lo realizziamo ponendo costante attenzione alla soddisfazione dei nostri clienti, aumentando la flessibilità e la velocità nel rispondere alle loro esigenze e mantenendo tramite la collaborazione con lo staff tecnico e commerciale del laminatoio i massimi livelli di garanzia, affidabilità e la miglior qualità del servizio. Oggi il volume dei prodotti di U. S. Steel Košice distribuito sul territorio italiano supera un quarto di milione di tonnellate all'anno. 

CONTACT
Via Giovanni Boccaccio 45
20123 Milan 
Italy

ALBERTO MAROSTICA
Sales Office
U. S. Steel Europe - Italy S.r.l.
+39 02 365 77430
+39 347 149 5620

amarosticask.uss.com
U. S. Steel Košice, s.r.o.
Vstupný areál U. S. Steel
044 54 Košice
Slovak Republic
Phone.: +421 55 673 1111
Fax: +421 55 673 1110
ID No.: 36 199 222
VAT ID: SK7020000119
Commercial Register: District Court Kosice I, Sec.: Sro, File No.: 11711/V