Characteristics
The KORAD radiators are heaters that allow heat exchange between the heat-carrying medium (water) and the surrounding area.

The radiator body consists of one, two or three panels. The radiator panel itself is welded from two steel cold rolled stamped pieces, by a seam weld around the perimeter and by the resistance spot welds in the vertical ribs. The axis pitch of vertical channels is 33.33 mm.

 
To increase the heating efficiency, some types of radiators are equipped with one, two or three additional heat-exchanging bent sheets - convectors. The convector is spot-welded to the vertical channels of radiator bodies. Its surface increases the heating capacity of the heating body up to about 30%.

The Ventil-Kompakt (VK) radiators are equipped with additional flow piping enabling bottom connections and a valve insert with adjustable kv values. The VK radiators are supplied with a connection on the bottom right, left, or center connection (VKS). All types of radiators can be supplied with a flat front panel - KORAD PLAN (-P).

For more information please visit  www.usskorad.sk
TECHNICAL SPECIFICATION

Technical parameters of the KORAD steel panel radiators meet the requirements of EN 442-1:1997/A1:2004. Radiators are certified according to EN 442:1 by Notified Body No. ES1015, Strojírenský zkušební ústav, s. p. Brno, the Czech Republic and are CE marked on the basis of the Declaration of Conformity.
The fact that the quality requirements according to EN 442 have been met is confirmed by the radiator performance tests conducted by the renowned accredited laboratory HLK Stuttgart accredited laboratory and by the registration in DIN CERTCO in Berlin. The Declaration of Conformity and certificates can be downloaded from the website www.usskorad.sk, or may be sent on request.
TYPE ASSORTMENT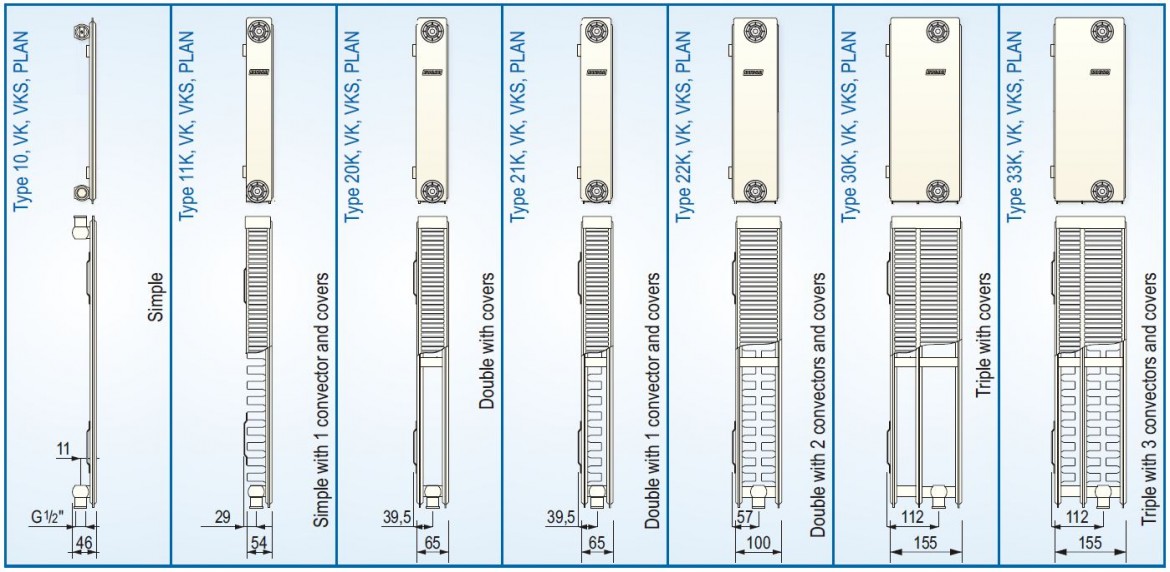 KORAD HEIGHT AND LENGTH ASSORTMENT [mm]

1) Production length of radiators is graded by 100 mm.
2) Radiators - type 11, with bottom middle connection (VKS) and flat front panel (PLAN) are available only up to lengths of 2 000 mm.
3) Radiators H 550 mm are manufactured only with side connections (including flat front panel) in reduced length assortment.
BASIC TECHNICAL DATA, POSITIONING, INSTALLATION

The KORAD panel radiators and convectors are made of low carbon
cold rolled steel sheets produced by U. S. Steel Košice, s.r.o. according to
STN EN 10130 + A1. The steel is characterized by increased tensile strength and good weldability.
Degreasing
Phosphate layer
Cataphoretic basic paint
Top coat - electrostatically applied powder coat - RAL 9010 shade
Each radiator is wrapped in the PE foil. The edges of the radiators are protected by U-shaped cardboard; the corners are protected by plastic
angles. During transport and storage, the radiators are placed on nonreturnable wooden pallets in accordance with the Pallet Arrangement Plan.
Minimum test pressure 1,3 MPa
Maximum operating pressure 1,0 MPa
Maximum temperature of heat-carrying substance 110 °C



Each radiator must pass a leak test.
Radiators must be stored in their original wrappings.
A storage place must be protected against weather exposure, high humidity and rapid temperature changes.
The radiators must not be stored in an open area. 
Stored or transported radiators must not be exposed to strong static pressure.
Do not store materials and tools on radiators.
Radiators can be stacked only if they are wrapped on original pallets. Only two pallets with the same dimensions can be stored on each other on a flat and stable floor. Pallets with the models of radiators 10 and 11, as well as all the PLAN radiators can be stored in one layer only. 
Radiators must not be dragged on the floor to an assembly place even if they are wrapped.
The  KORAD  panel  radiators are suitable for heated spaces with low level of humidity (30 - 60%) and negligible  pollution, for example apartments, offices, schools, hotels, shops, museums and the like. They can be used also in environments with higher relative moisture, but  free of  condensation and air pollution, such as the sports facilities, warehouses,  corridors,  but  with  sufficient and regular ventilation or a permanent operation of the radiators.
The panel radiators should be optimally placed at least 140 mm below the window sill and 70 mm over the floor in the vertical axis of the window. The distance from the wall is usually determined by brackets, but should not be less than 30 mm. The air must freely circulate around the surface of radiators. The maximal recommended slope of the radiator is 45° (attics). Failure to meet these distances may cause a decline of the heat output.
The bodies should be positioned so as to be out of reach of water from showers, sinks, etc. In areas with the increased hygiene requirements (health care facilities), we recommend radiators without additional heat transferring surfaces (convectors).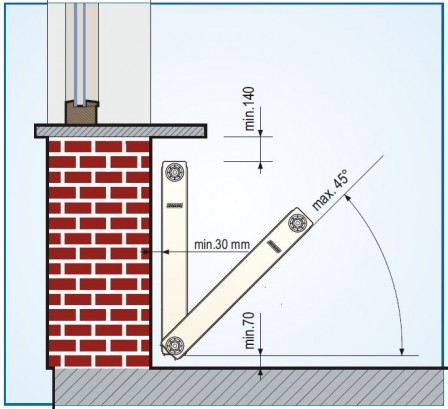 The method of installation depends on the material of the wall behind the radiator. The KORAD drill-in brackets are intended for walls made from solid materials. Do not use the KORAD brackets for walls from perforated bricks! Use brackets with special fasteners for this type of walls instead. Positions of lugs serving as fixing points are drawn on the attached picture. If radiators cannot be fastened to a wall (glass-covered wall, plasterboard and so on), installation is carried out by rack consoles anchored to the floor. 
Installed radiators usually form 90° angle towards the floor. In reasonable cases radiators can be installed with maximum inclination of 45°
without impact on their heating output (e.g. in attics). It is necessary to consult other installation methods with the manufacturer. 
We recommend installing the radiators fully wrapped to ensure their maximum protection until completion of all construction works. When necessary, radiators can be operated fully wrapped to temper the building. 
Cut the protective foil at protective corners before mounting. Plastic protective corners are designed to be folded up at connection points. At first, remove plastic blanking plugs. Always remove the plastic plugs before putting the radiator into operation! The only purpose of the plugs is to protect radiators during manufacturing, storage and transportation.
Install all necessary valves, blanking plugs and the air vent. When hanging the radiator on wall bracket, remove protective components of lugs from the rear side of the radiator. 
Start installation. Install radiators with inclination of 5 to 10 mm per 1 m so that a blanking plug will be at the highest point.
DOWNLOAD



DECLARATION OF
CONFORMITY
Show all languages
We offer flexible product delivery with multiple options for packaging and methods of transportation.
Shipping
The final products are shipped to the customers via truck, railway, ships or transportation directly from our covered storage yard.




LEAVE US YOUR DETAILS
AND WE'LL GET IN TOUCH

Tell us about your company.

CONTACT

OLIVER LINDVAY
Director 

Sales

Radiators and Pipes
+421 556 739 477
+421 917 731 269

olindvaysk.uss.com
U. S. Steel Košice, s.r.o.
Vstupný areál U. S. Steel
044 54 Košice
Slovak Republic
Phone.: +421 55 673 1111
Fax: +421 55 673 1110
ID No.: 36 199 222
VAT ID: SK7020000119
Commercial Register: District Court Kosice I, Sec.: Sro, File No.: 11711/V