PROGRAM



Plant Tours
Visitors to the event could choose one of two guided tours of the steelworks. Transport for these tours was provided throughout the day by a fleet of 14 buses, and the tours were run by a team of more than 40 marshals and tour guides.
For adults and youngsters aged 12 years and over had the opportunity to go on a walk-through guided tour of the Cold Rolling Mill, Dynamo and Color-coating Lines and the Shipping section. This tour was enjoyed by a total of 743 people carried in 27 buses.  
For participants without age restriction another bus tour was available taking in most of the divisional plants, with the chance to take a look inside the Hot Rolling Mill hall. Altogether 1475 people took advantage of this opportunity, carried in 37 buses.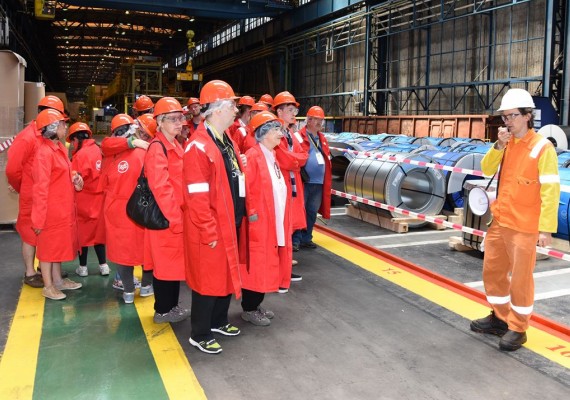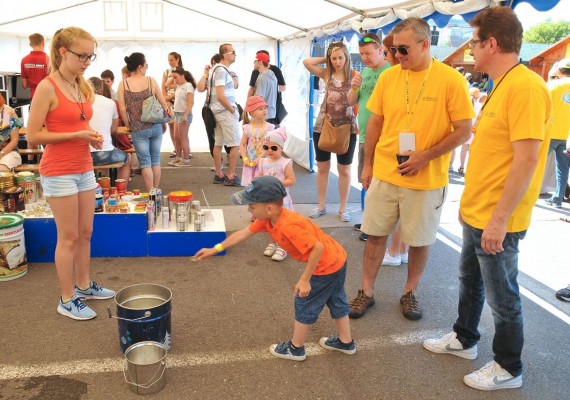 The U. S. Steel Košice Zone

The Unit of General Manager for Occupational Safety and Hygiene and REACH had its own tent presenting a wide range of the kinds of personal protective gear and equipment routinely used around the steelworks. Children could have their photos taken wearing the protective gear. Everyone who agreed to having their photograph included on the common billboard with a safety message was included in a tombola featuring some nice prizes. Seven steelmakers or their family members had the pleasure of winning. Tablets supplied by U. S. Steel Košice were won by Miroslav Sedlický, Robert Bencko and Slávka Jakubišinová, and designer sunglasses supplied by the company Sagitta went to Silvia Trembecký, Slávka Korenková and Robert Weisz.
The Ecology Unit in their tent once again carried out well-water analyses for the first 100 people bringing samples. They of course also had their emissions and immissions monitoring vehicle there, and various competitions awaited the children.
The Sales and Marketing Department presented their traditional exhibition of products made from our steel sheets. In this tent children were able to try out a dry toboggan run simulator.
The USSE Research and Development Department had optical microcopes prepared (not only for children) for studying living creatures and mineral samples, and there were demonstrations of a thermovisual camera.
The Works Firefighting Unit exhibited their firefighting technology, equipment and protective gear. They also put on a demonstration of active intervention outside the AB building. Visitors could see how the crew dealt with a reported dangerous package at the post office, including setting up a decontamination tent and disposing of the package.
The subsidiary companies in their tent exhibited the refractory products made by RMS, a.s. Košice, the metal-taping technology used by OBAL-SERVIS, a.s. Košice, the disposal of PET bottles carried out by U. S. Steel Services s r.o., while the employees of U. S. Steel Košice – Labortest, s.r.o. presented some simple chemistry experiments and instruction as to how certain chemical substances can be used for entertainment purposes. Visitors got a close look at a mannequin wearing the protective clothing of a security employee from U. S. Steel Košice - SBS, s.r.o., and they could tyry out the equipment they use, such as an alcohol tester.
For the first time at this event there was also a presentation of the U. S. Steel Košice Foundation. Visitors to their tent could find out more about their projects called Your Chance to Play and We're With You at the Right Time, as well as their Scholarship Program. These projects are intended specifically to support steelmakers and their children. There were naturally also various competitions and attractions for children in their tent.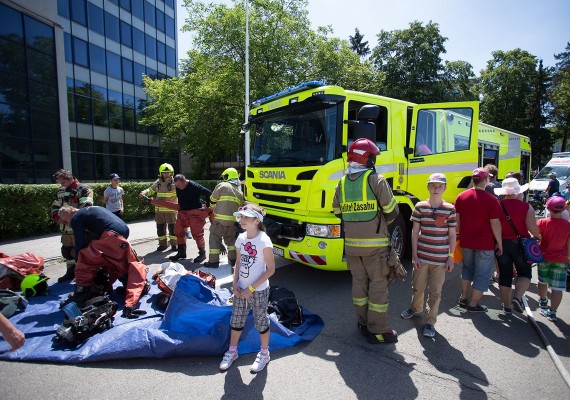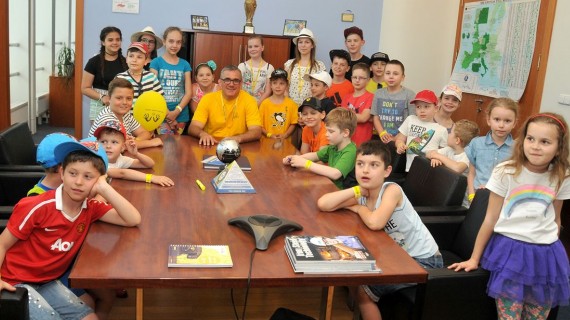 The President of USSK met children and answered their questions
Curious children also had the chance during this 6th edition of FSD to put questions to the President of the Company. They met him in the large lecture room of the main admin building, and they asked him about all sorts of things, ranging from his personal interests and his family through to the management of the Company. The children were also keen to know about all the places in Slovakia he has had the chance to visit.
The meeting then continued with a visit to the President's office. A brief discussion there finished with the children promising President Scott Buckiso that when they got home, they would remind their mums and dads, their sisters and brothers and their grandparents how important it is to respect safety rules in their workplaces, because they want them all to come home from work safe and sound every day.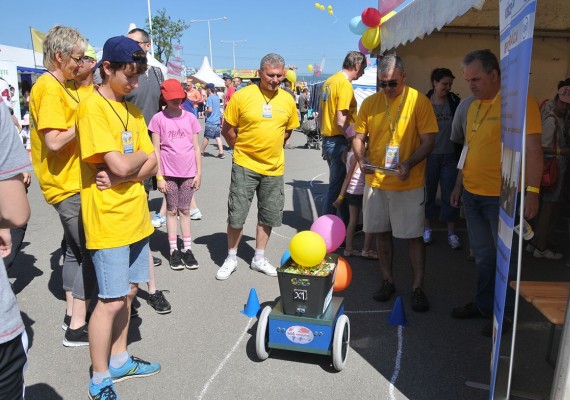 The Partners Zone
Family Safety Day also featured presentations by several of USSK's partner institutions, who came up with all sorts of interesting activities.
The Faculty of Metallurgy at the Technical University of Košice included several attractive activities in its program. Visitors were able to have fun with an interactive periodic table of the elements, to mint or silver-coat a coin for themselves, get to know the world of materials better, or try out the potter's craft on a ceramic wheel.
The Secondary Vocational School in Košice–Šaca took part in FSD for the second time this year. In their tent visitors were able to get hands-on experience of controlling a robot or using an engraving machine, and children could join in various logical-thinking games.
The Slovak Technical Museum is a regular participant in this event, and this time visitors were most interested in their presentation of the old Solivar salt-producing works near Prešov, now a national heritage landmark, with two scale models of a horse-powered windlass and the salt-boiling house called František. Another novelty was a salt-manufacturing workshop for making colored salt.
The popular Health Zone featured the tents of Dôvera and Všeobecná zdravotná poisťovňa health insurance companies. Of the many health check-ups which they had prepared, we must especially mention the birthmarks examination, measurements with a quantum magnetic resonance analyzer, and a BMI (Body Mass Index) calculating instrument. A novelty in the Dôvera tent was their Healthy Eating Adviser.
The Police Force of the Slovak Republic once again presented several of its divisions at this year's FSD event. Police officers assisted the fire-fighters in their intervention exercise, and of course there were demonstrations of the dog-handlers' work, the mounted police, an armoured personnel carrier, the motorcycle police, and eductional activities in their tent focusing on road safety.
A new partner at this event was the Satur Travel Agency. Visitors to the tent of this popular travel company found out about the new packages they have on offer for this year's summer season, and children couldn join in various creative games and competitions. There was a prize draw in which one lucky visitor won a voucher worth 200 € towards the purchase of a holiday from Satur Travel Agency. The lucky winner turned out to be Daniel Durbák.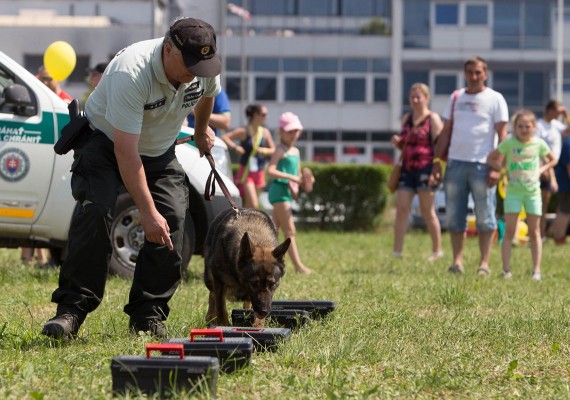 Fun Zone
This place appealed mainly to children. There was an amusement park, the usual inflatable attractions, and of course the very popular aqua-zorbing.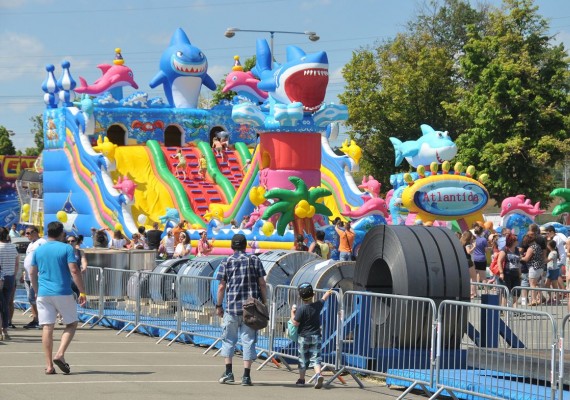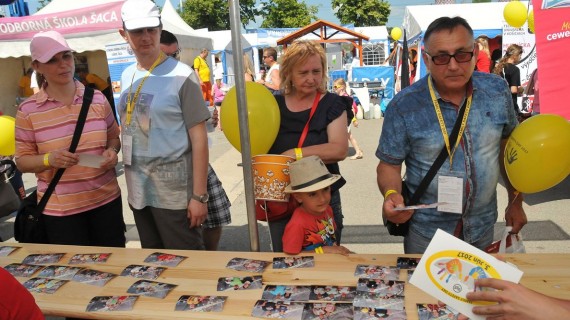 Souvenir photograph
This year too visitors were able to take home with them a nice souvenir of FSD in the form of a family photograph. A total of 1600 family photos were printed out during the event. Whoever did not pick up their picture on the day can get it from the Public Affairs Department  strating from Monday, June 12.
Family Zone on the meadow
The meadow opposite the main parking lot was again transformed into our Family Zone.
More creative visitors surely looked in at the Creative Workshops tent, where with their own hands they could make animals and figures using plastic bottle-tops or paper plates, collages and ornaments using bean pods, or palette-knife pictures decorated with paper napkin appliqué and plant seeds.
Older children definitely appreciated the inflatable obstacle-course attractions in wipe–out style. There were three obstacle-courses here: Extreme Run, Sweeper and Giant Balls over a total distance of 52 meters.
Not only children but certainly adults as well enjoyed the chance to try radio-controlled drone flying. The most skillful fliers could then experience flying larger drones in teacher-pupil mode. The company UAVONIC, which organized this activity, put on a tombola at the end of the day in which the first, very nice prize was an actual drone. The lucky winner here was Ján Juraj Gbúrik.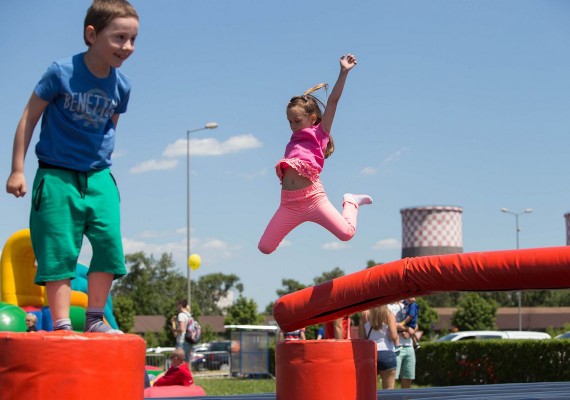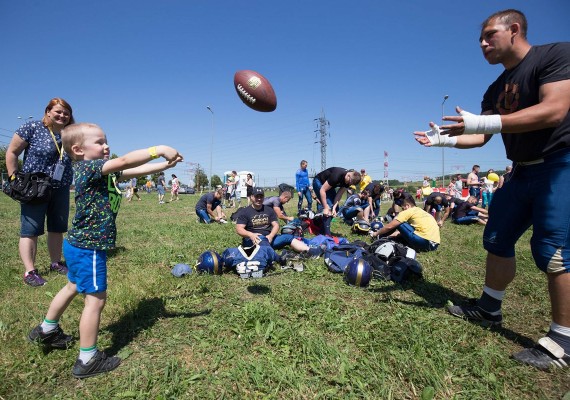 In the Falck Záchranná, a.s. tent children could learn using a plush teddy-bear how to give first aid in case of need. The activities continued with demonstrations and first-aid training for youngsters and adults using professional mannequins, mock-ups of injuries, and model situations.
During the morning children had the chance to join in various competitions on the theme of safety.
Later on the center of the meadow changed into an improvized American football pitch. FSD visitors could watch some practical demonstrations of Cassovia Steelers training. The President of the Cassovia Steelers Football Club is U. S. Steel Košice employee Jozef Chaloupka.
In the afternoon there were demonstrations of dog training presented by Psie centrum Pozitív (Positive Dog Center).
Program on stage
The program featured other talented steelmakers
It has become a tradition that during the FSD program there are also performances by talented steelmakers and their family members.
Several of them appeared in front of their colleagues for the first time in something other than a working role. This year they were mainly musicians: bands called Pomaranč (Orange), Mona Lisa Smile and Country Fans, and the string quartet led by the daughter of employee Anna Kötelesová.
A circus performance was prepared for children entitled Kufrík (Little Suitcase), which was followed by a circus workshop run by the Saule duo of clowns. Teenagers and adults alike were left practically breathless during the neck-breaking riding tricks presented by the fantastic Bike Trial Show champions.
Ensuring that everyone had a good time were the Kodurka brass orchestra and the Girls From The Moon girl band, lunchtime was accompanied by the excellent Melodic Quartet, and towards the end of the event the participants were entertained by the band named Helenine oči (les Yeux d'Hélène).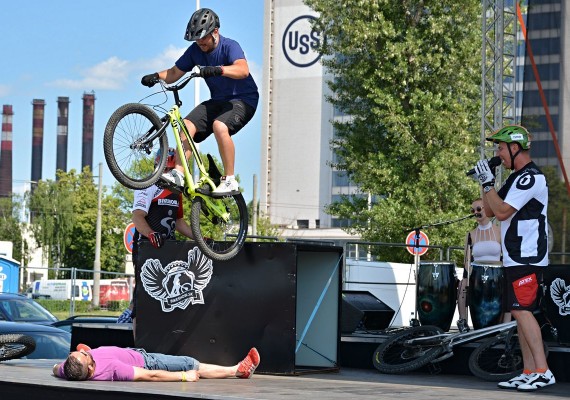 These attractions were financially supported by the subsidiary companies of U. S. Steel Košice.