5/4/2017
U. S. Steel Košice hires graduates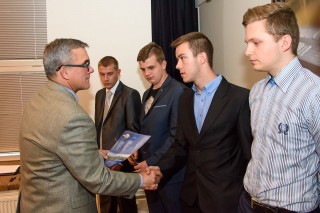 Author:
U. S. Steel Košice
On May 4, 2017, U. S. Steel Košice signed 42 agreements about future working contracts with students from the Secondary Vocational School in Košice – Šaca and the Secondary Vocational School for Railway Transport in Košice. After fulfilling the agreed conditions, the graduates become company employees from June to August this year.
The steelmaking company has been developing cooperation with secondary technical schools for many years. This cooperation includes support for school curriculum advancement, provision of motivation scholarships, as well as training in production plants. During the school year 2016/2017 there are about 350 students from all grades participating in professional practice and gaining new skills being led by skilled instructors. Special focus is put on occupational safety and health protection rules and conduct. U. S. Steel Košice develops similar cooperation with local universities as well.
"Searching for talents among students of secondary schools and universities is important for the sustainability of our business. Combining together the experience of our long-term employees with the drive and knowledge of fresh graduates creates potential for further successful growth of our company," said U. S. Steel Košice President Scott Buckiso during the contract handover ceremony. "Last year we hired more than 400 mainly young employees for our production operations, and during the first four months of this year the number has already reached more than 240," added Martin Pitorák, Vice President Human Resources.
- END -
Contact:
Ján Bača
spokesman
Public Affairs
U. S. Steel Košice, s.r.o.
tel.: +421 55 673 4618
jbaca@sk.uss.com