Conducting business with the highest ethical values
Conducting business with integrity and with the highest ethical values has underpinned U. S. Steel Košice, s.r.o.'s (USSK) success, and it remains critical to company's success in the future.
Our robust ethics and compliance program, based on ethics and compliance program of our parent company United States Steel Corporation, is grounded in S.T.E.E.L. Principles and  fosters a strong ethical culture characterized by transparency, accountability, fairness and respect. United States Steel Corporation 's ethics and compliance program was recognized by Ethisphere, a global leader in defining and advancing the standards of ethical business practices, as one of the 2022 World's Most Ethical Companies.
CORPORATE PRINCIPLES

 S.T.E.E.L.
Our S.T.E.E.L. Principles are the foundation of a strong ethical culture at U. S. Steel. These five principles set forth clear ethical expectations for all USSK employees USSK and its subsidiaries.  Conduct aligned with the S.T.E.E.L. Principles is essential to sustaining ethically and lawfully sound corporate citizenship, responsible environmental stewardship, and the principled management and leadership that are necessary for our continued success.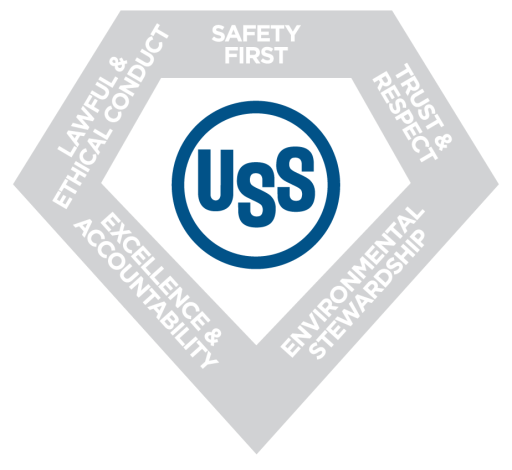 S afety first
 T rust and respect
 E nvironmental STEWARDSHIP
 E XCELLENCE & accountability
 L 

awful & ethical conduct
KEY ETHICS & COMPLIANCE
PROGRAM ELEMENTS
CODE OF ETHICAL BUSINESS CONDUCT
Describes the company's expectations for employee behavior consistent with the S.T.E.E.L. Principles.
CORPORATE POLICIES AND PROCEDURES
Provide additional guidance on specific topics to help employees comply with applicable laws and regulations and the S.T.E.E.L. Principles.
TRAINING AND COMMUNICATIONS
Regularly issued to employees on key ethics and compliance topics, including content tailored to particular roles and responsibilities.
EXPECTATIONS FOR BUSINESS PARTNERS
Detailed in our standard terms and conditions, Supplier Code of Conduct, and Anti-Corruption Guidelines for Third Parties.
RISK ASSESSMENTS, BENCHMARKING, AND SURVEYS
Ensure that our program meets the needs of our company and remains best in class.
Available 24 hours per day, seven days per week, the U. S. Steel Ethics and Safety Line provides a convenient way to raise ethics or compliance concerns involving our company. An independent third-party administrator hosts the site to maintain confidentiality and anonymity if preferred. The U. S. Steel Ethics and Safety Line is open to the general public, and we encourage anyone associated with U. S. Steel to report potential violations of law or U. S. Steel policy in good faith. U. S. Steel strictly prohibits retaliation against anyone who raises an ethics or compliance concern in good faith.
  Vstupný areál U. S. Steel
      P.O. Box 17
      044 54 Košice
      Slovakia