U. S. Steel europe - bohemia a.s.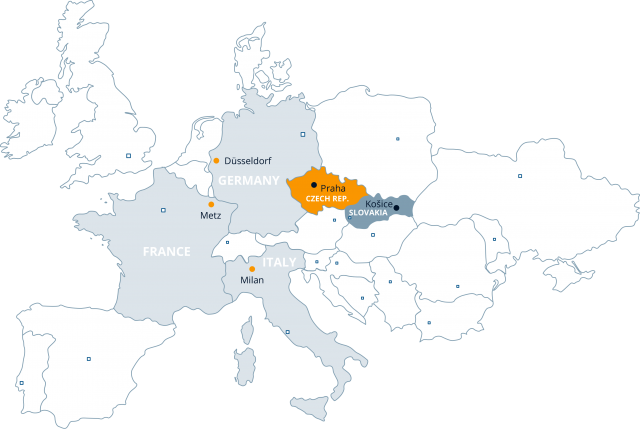 U. S. Steel Europe
- Bohemia a.s.
           
U. S. Steel Europe - Bohemia a.s. is a 100% subsidiary of U. S. Steel Košice responsible for the sales and the marketing in the Czech market. 
Our main goal is providing our customers with a full assistance to meet any of their steel needs supplying a wide portfolio of our flat products including hot rolled, cold rolled and hot dip galvanized coils and sheets. 
We are happy to cooperate with you on development of custom products and specific solutions accompanied with proper technical support, transportation and logistic services. 
U. S. Steel Europe Bohemia has been a reliable and experienced partner of your business for a long time. 
U. S. Steel Europe - Bohemia a.s. je 100% dceřinou společností U. S. Steel Košice zodpovídající za prodej a marketing na českém trhu.
Našim cílem je poskytovat zákazníkům komplexní služby v oblasti dodávek ocelových výrobků pozůstávajících z širokého portfolia tabulí a svitků válcovaných za tepla, studena i žárově pozinkovaných produktů vyráběných přesně podle požadavek a dodaných v želaný čas.
Se zákazníky spolupracujeme přímo při vývoji produktů a řešení, které pomáhají jejich podnikání. Svojí technickou podporou, kompletními  dopravnými  a logistickými službami je U. S. Steel Europe Bohemia Vašim dlouhodobým a spolehlivým partnerem.

CONTACT
Rohanské nábřeží 678/29
(River Garden 3 building, entrance D)

186 00 Praha 8 - Karlín
Czech Republic

DOVDON TUGSBAYAR
Managing Director
U. S. Steel Bohemia - a.s.  
(Czech)
+420 226 201 550

+420 777 0022 40

 dtugsbayarsk.uss.com
U. S. Steel Košice, s.r.o.
Vstupný areál U. S. Steel
044 54 Košice
Slovak Republic
Phone.: +421 55 673 1111
Fax: +421 55 673 1110
ID No.: 36 199 222
VAT ID: SK7020000119
Commercial Register: District Court Kosice I, Sec.: Sro, File No.: 11711/V