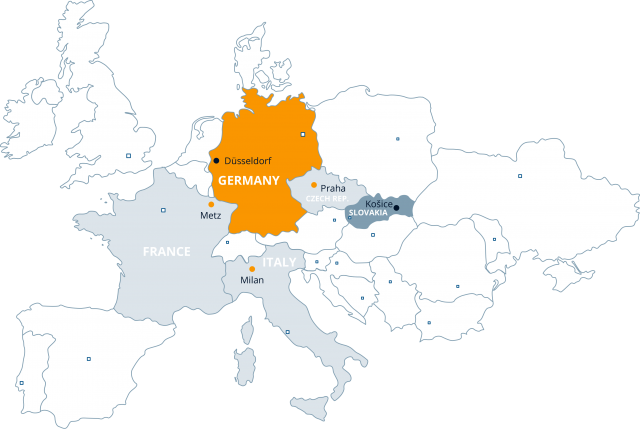 Sales Office U. S. Steel Europe - Germany GmbH
           
Established in 1994 supplies the customers from different areas of the steel distribution and steel manufacturing industry in Germany and Switzerland. We provide a wide portfolio of flat products consisting of hot rolled, cold rolled and hot dip galvanized steel. These high-performance products are offered as wide coils, slit-coils and cut-to-lengths (even tailor-made) in mill capable volumes within a most reliable lead time. 
We guarantee customer oriented and individual service throughout our sales and administration team in Düsseldorf together with the comprehensive technical and commercial service from the mill in Košice, Slovakia. 
Since a long time, we in U. S. Steel believe that customer satisfaction belongs to our individual goals we set to ourselves. That's the foundation for our desire to form long term relationships with our customers and support them with added value services at any time. 
U. S. Steel develops strategies to meet your needs. Our passion is to build a better world with our customers. From the very beginning of production ending by arriving at your place on time, we can guarantee our service to fulfil the highest standard of our customers. 
U. S. Steel Europe – Germany GmbH is looking forward to your RFQ.
Sales Office U. S. Steel Europe - Germany GmbH, mit Sitz in Düsseldorf, wurde 1994 gegründet und beliefert Unternehmen unterschiedlichster Größe der stahllagernden und - verarbeitenden Industrie in Deutschland und der Schweiz. Wir bieten ein umfassendes Programm von Flachprodukten in warmgewalzter, kaltgewalzter und feuerverzinkter Ausführung an. Diese leistungsfähigen Produkte sind als Breitband, Spaltband und als (auch maßgeschnittenes) Bandblech in werksfähigen Liefermengen zu den kürzesten und einer garantierten Lieferzeit zu beziehen. 
Kundennähe und individuelle Kundenbetreuung sind durch unser Verkaufs- und Abwicklungsteam in Düsseldorf, sowie zusätzlich durch die umfassende technisch-kaufmännische Betreuung im Werk Košice garantiert. 
Wir bei U. S. Steel wissen schon lange, dass die Bedürfnisse unserer Kunden auch unsere eigenen Anliegen sind. Deshalb streben wir langfristige Beziehungen zu unseren Kunden und den Entscheidungsträgern in der Wertschöpfungskette an.
U. S. Steel entwickelt Strategien um Ihre Bedürfnisse zu erkennen. Wir bauen eine bessere Zukunft durch Stahl. Vom Anfang bis zum Ende der Produktion und Lieferlogistik garantieren wir für die höchsten Ansprüche unserer Kunden. 
Ein Engagement, das man von einem Unternehmen der United States Steel Corporation erwarten kann.

CONTACT
Roßstraße 96
40476 Düsseldorf
Germany

ROBERT KRAMER
Sales Office U. S. Steel Europe
Germany GmbH
| | |
| --- | --- |
| | +49 211 447292 12 |
| |  rkramersk.uss.com |
U. S. Steel Košice, s.r.o.
Vstupný areál U. S. Steel
044 54 Košice
Slovak Republic
Phone.: +421 55 673 1111
Fax: +421 55 673 1110
ID No.: 36 199 222
VAT ID: SK7020000119
Commercial Register: District Court Kosice I, Sec.: Sro, File No.: 11711/V