The safety and health of our employees and contractors working at the facility every day.
Occupational Safety and Health Protection
U. S. Steel Košice, s.r.o. remains focused on its primary core value – the safety and health of our employees and contractors working at the facility every day. We firmly believe that zero injuries is achievable and that remains our goal.
The incorporation of the Carnegie Way into the safety process will enhance our efforts in identifying, prioritizing, and eliminating risk while engaging the entire workforce.
Ongoing implementation of 5S (Japanese for: sort, set in order, shine, standardize, sustain) housekeeping principles will assist in creating and maintaining an organized, clean, and high performance workplace across all facilities.
WORKED HOURS WITHOUT INJURY
At U. S. Steel Košice, safety first remains our primary and the most important value in protecting life and health at work.
On January 16, 2022, subsidieries reached 6,000,000 hours without injury OSHA (as a second one in the history following Transportation DP). As of December 31, 2022, it was already 7,272,738. Another record was reached by the employees of Coke Plant, who worked 3 million hours without injury. For the entire year 2022 we recorded one work-related OSHA Recordable Injury. That means the employees in the entire company managed to work without an incident.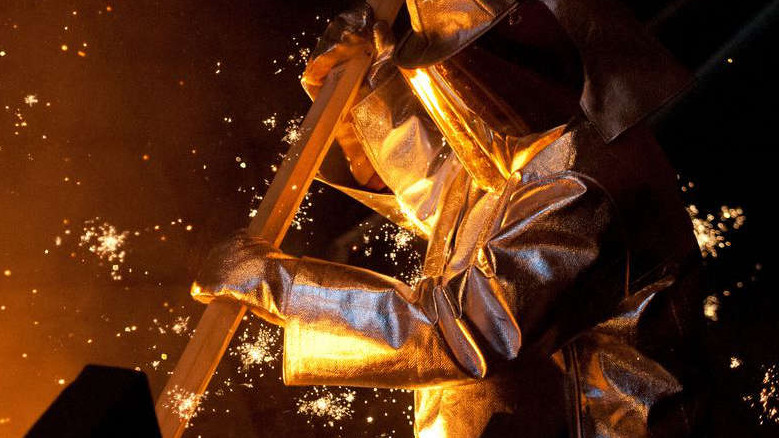 DEVELOPMENT OF THE FREQUENCY OF INJURIES
In 2022, the Company achieved (according to the methodology of the Occupational Safety and Health Administration (OSHA)) the frequency of all OSHA injuries 0.015 – which it is the best result since 2001 - and the frequency of DAFW 0,000. The company recorded one OSHA recordable injury.
Compared to 2020 and 2021, there was a significant improvement in the monitored parameters. The planned goals were not exceeded and are within the range that is significantly lower than the values achieved on average by steel-making industry.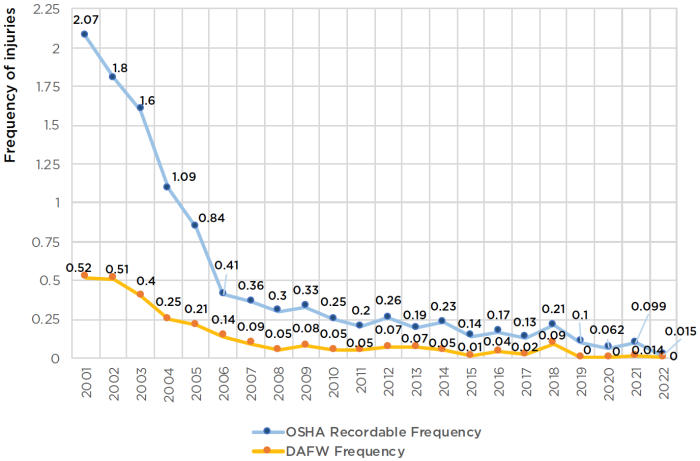 ELIMINATION OF RISKS
The Company performed two internal Fatality Prevention Audits (FPA) in cooperation with division representatives, trade unions, SBS Security and the Plant Fire Department in 2020. These audits also focused on external companies working on USSK premises. We assessed and eliminated haz­ards in the areas of work near Mobile Equipment, Energy Con­trol, Confined Space Entry and around the worksites. The teams of experts from various fields performed 102 audits on Life-Threatening Prevention Programs. The team members assigned 29 measures in total. The audits did not identify any critical findings related to Life-Threatening Prevention Programs.
Our activities continued to make the Occupational Safety and Health Protection processes more efficient. In cooper­ation with experts from various areas and quality manage­ment system managers, we focused on implementation of our Safety Management System (SMS).