1/16/2019
U. S. Steel Košice to build new electrical steel line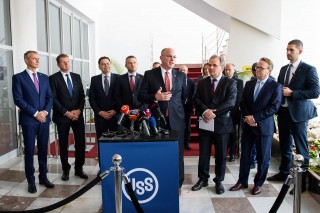 Author:
U. S. Steel Košice
Kosice, January 16th 2019 – U. S. Steel Košice (USSK) announced today it will build a new non-grain oriented (NGO) electrical steel line  located in Kosice. The new line, a $130 million investment, has an annual capacity of approximately 100,000 metric tons.  Construction will begin mid-2019 and is targeted to be operational in the fourth quarter of 2020.
The new line will enable production of sophisticated silicon grades of NGO electrical steels to support increased demand in vehicles and generators. It will complement USSK's existing NGO electrical steel processing line and will allow USSK to be a preferred, long-term supplier of NGO electrical steel to key global partners.
"We are building a new NGO electrical steel line at USSK in response to increasing customer demand for high quality NGO electrical steels," said James Bruno, President U. S. Steel Kosice.  "This investment is an important component of our long-term strategy to improve and diversify product capabilities. With this investment, USSK is well positioned to be a preferred global supplier through long-term partnerships, and has already entered into a contractual commitment for a substantial portion of the new line's volume with a strategic customer. I strongly believe that this news will be very encouraging for the community in Kosice and is going to highlight Slovakia as a leader in the European steel industry," added James Bruno.