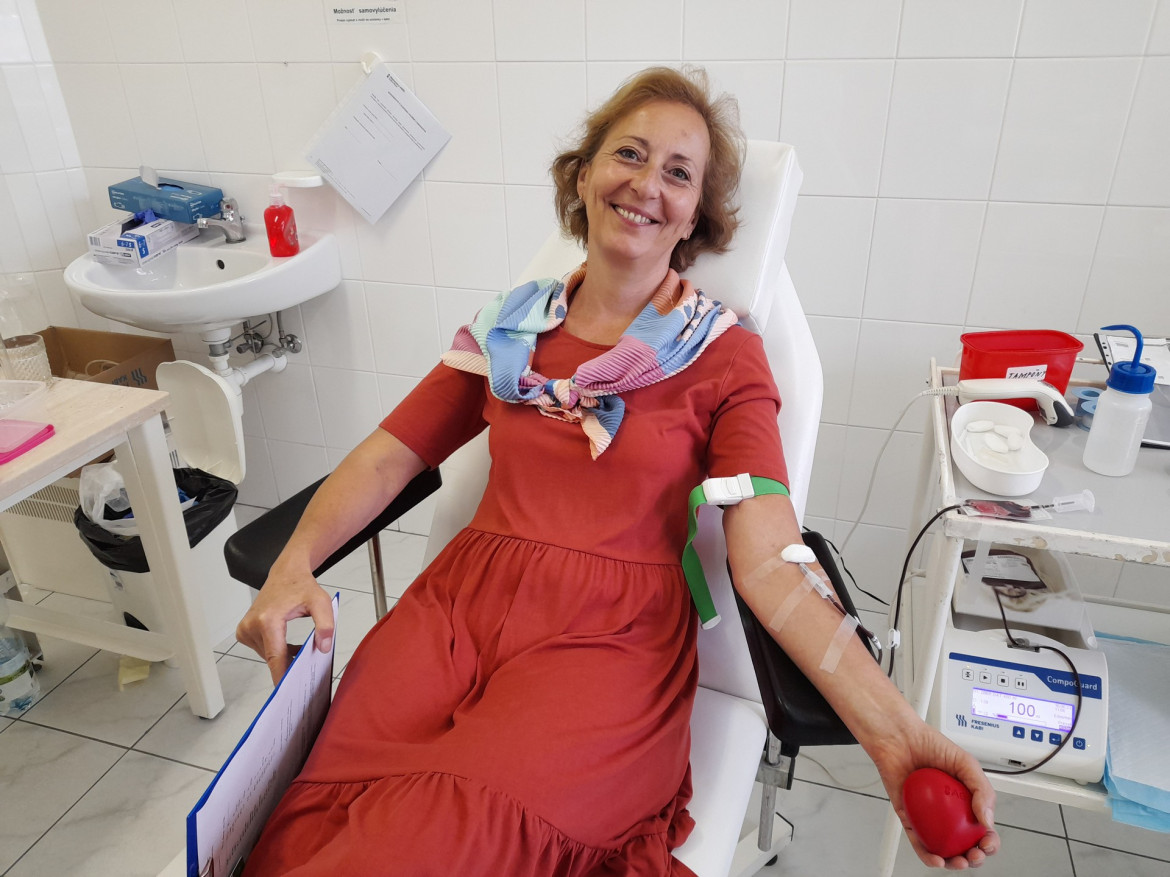 Almost 30 liters of blood will help save lives thanks to the Steelmakers´ Drop of Blood, which kicked off the volunteer event Steelmakers for Košice 2023.
On June 16, immediately in the morning after six o'clock, the Hematology and Transfusiology Department of the AGEL Hospital Košice-Šaca began to fill up with the first employees of U. S. Steel Košice, who came voluntarily and selflessly to donate blood. Martin Tkáč was the first to go to the collection site, followed by Marek Ujco, both multiple blood donors. Our colleague Tkáč from human resources has donated blood 77 times and next time he plans to come with his daughter Zuzana, who will soon be legitimate for drive as she turns 18.
From human resources, there were also 3 other women who were waiting together for collection: Diana Pappová, Ivana Šarikova and Andrea Krokosová. The latter came to donate blood for the first time. Although she has a rare blood type, she has not been able to donate blood for health reasons so far. "I was motivated by my colleague Danka Drábová and, moreover, my son is also a doctor, so we are willing to help in our family," she told us. Erika Linkeschová also caught up with donating blood while working.
For several hours, multiple donors alternated with eleven first-time donors. Martin Szabó from the packaging branch and Miroslav Feťko from Transportation have donated blood more than 100 times. Regular donors are also spouses Mária and Vladimír Kuruc. As every year, Michal Tančák from the Facility Administration managed to make everyone around him laugh. On the contrary, Michal Dečo from IT decided to take his first blood donation."I've been thinking about donating a long time ago, and in addition to picking a spot for Saturday's brigade, I also signed up for a Steelmakers´Drop of Blood."
Young blood was also brought by Ivan Fedor, who donated 86 times and came together with his daughters Lenka and Karina. The Gabani family are also regular donors; this time mom Dana arrived with sons Daniel and Samuel.
We met again entire work teams from the finance department and from GM's materials management department. Anna Györgyfiová was only able to start donating blood after she reached a weight of 50 kg and since then she has done so 30 times. Regular donors include Monika Šipošová and Andrea Čapeľová, who says that "if I want to help, donating blood is the easiest thing I can do." Peter Szalka, Peter Kmeť and everyone else who came to donate on June 16  has  a similar motivation. There were 69 of them in total and more than 29 liters of blood were arranged, which will help in operations and save lives.  "If I help save at least one human life, it makes sense," we could quote one for all donors.
Every year, USSK scholarship holders, talented university students who, in addition to exams and statesmanship, managed to engage in charity, help with the organization: Vladislav Vavrák from the Technical University in Košice and Barbora Ľapinová from P. J. Šafárik University in Košice.
Everything went smoothly and big applause also belongs to the team of health workers led by Head of Department Annamária Bratková and morning shift manager Henrietta Horváthová.
Photo Gallery: Arpád Köteles and Ľubomíra Šoltésová