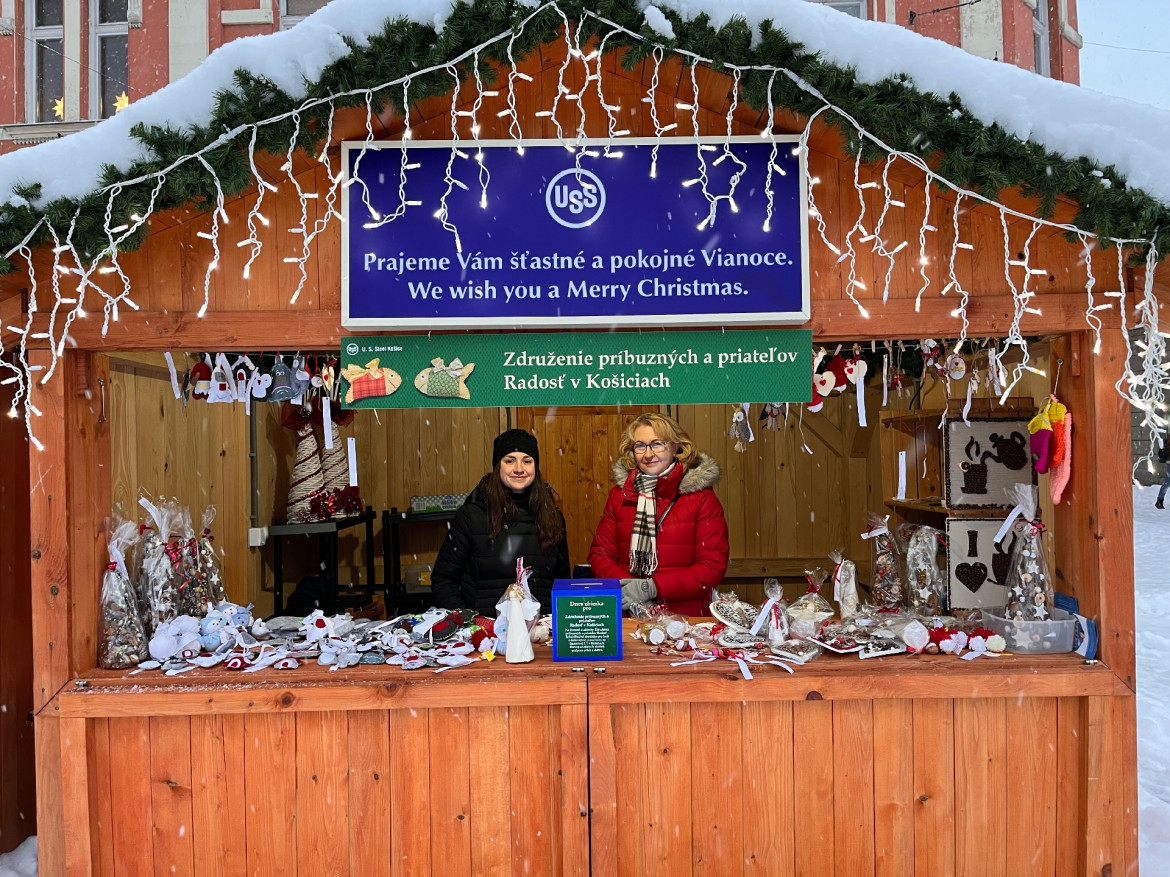 At the USSK Charity Hut, future doctor, USSK scholarship holder Malvína Vargová also helped as volunteer
Of the several non-profit organizations that present themselves at the USSK Charity Hut during the Košice Christmas markets from December 5 to 22, Malvína Vargová has purposefully chosen the "Association of Relatives and Friends of Joy", which offers the services of a rehabilitation center for people with mental disorders. As a student of the 5th year of the Faculty of Medicine of the Pavol Jozef Šafárik University in Košice, she chose for volunteer service the facility closest to her future profession, in which she also practiced some time ago. Experts agree that the proportion of mental illness is growing, and the pandemic, the feeling of isolation and the loss of contact have accelerated this trend.
Malvína explains: "This facility serves the whole city of Košice. In the rehabilitation center, there is a place for 14 clients of mental disorders (schizophrenia, affective mood disorder, personality and behavioral disorders) from the age of 18. The social service is provided to them in an outpatient form on weekdays. They have now submitted an application to expand the capacity of the facility. The professional staff treats clients in a friendly way, with empathy, understanding and with respect for the individuality and degree of affliction of each of them."
Like Malvina, Mária Barnová, who works as a project manager in the GM section for maintenance transformation and production support, decided to help this association. She has replaced her daughter Sarah, USSK scholarship holder, who has a busy study program at the National Institute of Applied Sciences in Toulouse, France, and is not going to Slovakia until the summer. Also for Maria, voluntary service in the booth was a very interesting experience.  "One of the clients told me how successfully she managed to reintegrate back into normal life thanks to the help of the center. Not a few people stopped by the booth who were interested in this association and at the same time made a voluntary donation for beautiful Christmas decorations that clients handmade."
That the greatest interest was precisely in animals and stars handmade from fabrics is confirmed by Malvina. Older visitors to the stand received angels and wooden trees for a voluntary donation. "The center would like to use the money collected during this event to run the facility and trips for clients, which have gained great popularity with them and thanks to which they are able to better integrate into everyday life," she adds.
Both Malvina and Maria (first and second from left in the photo) agreed that providing a charity stand to non-profit organizations is a perfect project, because even those people who have not yet known about their beneficial activities, can learn a lot and support them.