Characteristic
The combination of technical properties, efficiency and environmental characteristics makes organic coated steels a superior material used across many industries. With the surface already treated, these steels not only increase processing efficiency, decrease consumption of energy & time, but they are also environmentally friendly. 
Organic coated products are suitable for applications requiring oxidizing and corrosion resistance. They are used in both exterior and interior in civil engineering, appliances, metal furniture and especially for production of roof coverings, decorative appearance, wall panels and architectural elements in construction industry.


On our quest to provide great products for industries, we were able to develop a new product - Thin Organic Coating.  Hot dip galvanized substrate with a layer of polymer coating applied on both sides makes the ultimate solution for interior and exterior applications.

» Learn more about the thin organic coating here
TECHNICAL SPECIFICATION



ADVANTAGES
Durability
Corrosion resistance
Long-term aesthetic appeal
Excellent workability
Minimal maintenance
Recyclable and environment friendly
Appearance: color, shine, surface treatment (smooth, grainy, aggregate, relief etc.)
Key attributes: plasticity, corrosion resistance, UV resistance
Specifics: chemical resistance, emissivity, anti graffiti, anti-dirt
Organic coated steels are produced in the coil coating process when (organic) coating material is applied on rolled metal strip in a continuous process that includes cleaning, if necessary, and chemical pre-treatment of the metal surface and one-side or two-side, single or multiple application of (liquid) paints subsequently cured in ovens and finally rolled into coils.
Quality control system has been implemented as an effective instrument of high quality production and products in accordance with international standard ISO 9001, issued by TÜV CERT. Basic material for production of organic coated steels is hot dip galvanized sheets or cold rolled sheets without surface treatment.
BASIC PROPERTIES

The properties of coil coated flat product shall comply with requirements specified in international or national standards. Required properties, tolerances and standards should be indicated at the time of enquiry and order.
The inspection of the color of the organic coating consists of conducting a visual comparison between sample of the manufactured product and a reference sample of prior agreement. For a more thorough inspection, the difference in color can be measured instrumentally, however it should be noted that the type of measuring instrument or measuring method/system is influencing results significantly. Color cards, RAL tones often do not define exact colors and therefore only serve as a guideline. Color perception varies from one color to the other and from one finish to the other (gloss variations, embossed, textured, wrinkled, metallic pigmented, pearlescent coatings and finishes etc.). These specific finishes may exhibit aspect and color variation from one production batch to another. It is also important to maintain directionality to ensure color consistency.
Gloss ranges according to EN10169
| Gloss range (informative indications) | Matt | Low gloss | Satin | Semi-gloss | Gloss | High gloss |
| --- | --- | --- | --- | --- | --- | --- |
| Gloss unit range (60°) | ≤ 10 | > 10 ≤ 20 | > 20 ≤ 40 | > 40  ≤ 60 | > 60 ≤ 80 | ≥ 80 |
Gloss is optical property of a surface characterized by its ability to reflect light.
If gloss is not specified in the order, standardly applied is satin gloss.
flexibility ranges in USSK production
Flexibility range
High flexibility,
for severe forming conditions
Standard flexibility
Minimum bending radius
(T nominal thickness
of the product)
<1T

max. 3,0 T for drawings grades
max. 3,5 T for structural grades
Depending on the end-use of coil coated flat products the performance properties and product flexibility shall be agreed at the time of enquiry and order. Product flexibility shall be evaluated by a T-bend test carried out on the exposed face. Flexibility of the product depends on the substrate thickness, the metallic protection and the organic coating. During the flexibility testing there shall be no visible cracks when the paint film is examined with a 10x magnification.
Grades and Measurements

BRAND CORRESPONDENCE
 

Utilization

Standard

Grade

galvanized 1)
substrate

Drawing

EN 10346

   DX51D+Z, DX52D+Z, DX53D+Z

Structural

EN 10346

   S220GD+Z, S250GD+Z, S280GD+Z, S320GD+Z, S350GD+Z

cold rolled 2)
substrate

Drawing

EN 10130

   DC01, DC03

Structural

DIN 1623/09

   S215G
1) galvanized - cold rolled strip with metallic coating
2) cold rolled - without metallic coating 
DIMENSIONS OF SHEETS AND COILS - COLD ROLLED SUBSTRATE (mm)
Nominal thickness1
Width2
 
750
1000
1100
1250
1260
1300
1330
1400
1500
0,40 - 0,49
 
 
 
 
 
 
 
 
 
 
0,50 - 0,55
 
 
 
 
 
 
 
 
 
 
0,56 - 0,59
 
 
 
 
 
 
 
 
 
 
0,60 - 0,80
 
 
 
 
 
 
 
 
 
 
0,81 - 1,00
 
 
 
 
 
 
 
 
 
 
1,01 - 1,50
 
 
 
 
 
 
 
 
 
 
| | |
| --- | --- |
|   |  - drawing grades only |
|   |  - drawing and structural grades |
DIMENSIONS OF SHEETS AND COILS - GALVANIZED SUBSTRATE (mm)
| Nominal thickness18 |   | 800 | 1000 | 1250 | 1260 | 1300 | 1330 | 1400 |
| --- | --- | --- | --- | --- | --- | --- | --- | --- |
| 0,40 - 0,49 |   |   |   |   |   |   |   |   |
| 0,50 - 0,56 |   |   |   |   |   |   |   |   |
| 0,56 - 0,59 |   |   |   |   |   |   |   |   |
| 0,60 - 0,80 |   |   |   |   |   |   |   |   |
| 0,81 - 1,00 |   |   |   |   |   |   |   |   |
| 1,01 - 1,50 |   |   |   |   |   |   |   |   |
 
 

- drawing grades only

 

 - drawing and structural grades

 

 - subject to prior agreement
Inner diameter: 508 / 610 mm
Outer diameter max.: 1 800 mm
Max. weight : 15 t
Use protective inner spoon for diameter 508, no for D610
Inner diameter: 508 / 610 mm
Other grades corresponding to international (ISO) and national (ASTM, DIN, JIS, GOST and others) standards.
Other dimensions are subject to prior agreement.
Minimum metal coating masses as specified for certain application need to be indicated at the time of inquiry and order. Weight of zinc coat is 100, 140, 150, 200,225 or 275 g/m2 applied on both sides, or  140/85 g/m2  with higher coating on top side. Other weights are subject to prior agreement. Minimum zinc coating for one side is 50 g/m2.
Organic coating systems



Coating system is a combination of coatings applied on either the top side or the reverse side.
It consists of one or more coats; each coat may consist of one or more coating materials.
The choice of the organic coatings and specific combination of them depends on the end-use of the products. This choice needs to be agreed between the customer and the supplier in order to meet the customer´s requirements of the product flexibility, the corrosion protection/corrosion resistance category of the top and reverse sides and, if necessary, the UV resistance category of the top side. The reverse side coating should be chosen appropriatelly. It is normally required to withstand handling and storage. Under specific circumstances, it can also be required to provide corrosion protection and/or aesthetic appearance or to be compatible with foam or adhesive bonding.
For strip supplied in coil form, the top side is normally the outside of the coil, for sheets and cut lengths (in stacks or bundles) the top side is normally the uppermost.
If the purchaser requires an alternative arrangement this shall be expressly stated at the time of enquiry and order.
Primer, priming coat - first coat of a multiple-coat system
Topcoat, finishing coat - final (uppermost) coat of a multiple-coat system
Backcoat, backing coat - coating of any type on reverse side with no particular requirements on appearance, corrosion protection, formability, etc.
Protective foil - strippable plastic film applied to the coated surface in order to afford a temporary protection against mechanical damage
The primer's function is to give good intercoat adhesion between the substrate and topcoat. It also provides corrosion resistance to the overall coating system.
A variety of primers is available based on the application, requested appearance, environment, thickness, topcoat and overall functionality of final coating system.
The specific suitable primer to be used is recommended by specialists from paint producers.
Topcoat is a coating applied on the primer and usually it is the uppermost coating of the coating system that is exposed to the surrounding environments. The function of the topcoat is to provide aesthetic and decorative appearance (color tone, gloss, texture, special effects) and/or corrosion protection.
There is a variety of topcoats available based on the application and environment intended for service, requested appearance, thickness and functionality of final coating system. The coating material used for topcoats comprises of organic polymers, pigments, additives and solvents which contribute to final properties of topcoat.
The main function of the backing coat is decorative, but it also provides a protection on the inside of the panel. In sandwich panels applications it has to provide good adhesion of insulation foams.
Backcoats are available for use with or without a primer. When applied as a single coat, its thickness is 8-12µm. Using primer increases the thickness and thus provides better corrosion resistance.
There is a variety of backcoats available based on the application, environment, requested appearance and functionality of the final product.
|   | Primer | Topcoat | Backcoat |
| --- | --- | --- | --- |
| chemical composition: | chrome-free | chrome-free | chrome-free |
| resin system/base:  | polyester, polyurethane, epoxy, acrylic | polyester, polyurethane, polyvinylidenfluorid, acrylic | polyester, epoxy, polyurethane |
| applicable thickness:    |   low build (4-15µm), high build (up to 25-30µm) | interior (10-15µm), standard (20-25µm), high build (25-30µm) | single coat (8-12µm), with primer (>12µm) |
| physical properties:  | viscosity, density, spreading rate | viscosity, density, spreading rate, hiding power | decorative coloured coat, flexibility, corrosion protection, foam |
| functionality:  | flexibility, elasticity, hardness, corrosion resistance |   flexibility, elasticity, hardness, corrosion resistance | adhesion, anti-pressure marking, anti-fretting |
| appearance:     | smooth, spray effect, orange peel effect | color tone, gloss, smooth, textured, wrinkled or other effects | smooth, textured (high friction surface to prevent collapsing of coils), coloured options and gloss ranges |
Depending on the applications, the coil coated steel flat products may be delivered with a specified organic coating in 2, 3 or 4-layers systems. The most frequently used coating systems are illustrated.
2-layer coating system (one side only - 2A)
2-layer coating system (two sides – 1A1B)

3-layer coating system (2A1B)

4-layer coating system (2A2B)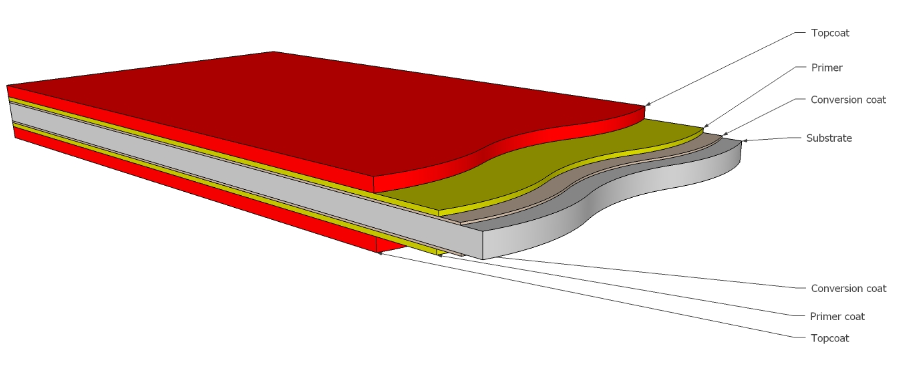 Coil coated products may be supplied with the additional temporary protection of a strippable film. Additional temporary protection is recommended, when special requirements during transportation, storage or processing are expected. Strippable films shall be removed within 3 months at the latest. Outdoor weathering exposure time of coated products protected by strippable films should be strictly limited. It is recommended to avoid exposure of products with strippable films to direct sunlight, bad weather conditions, high humidity (e.g. during storage) more than a limited period of time, for instance 2 weeks. As the efficiency of this treatment is limited in time, the end-user shall ensure a proper stock rotation.
DOWNLOAD



GENERAL DELIVERY TERMS
AND CONDITIONS

We offer flexible product delivery with multiple options for packaging and methods of transportation.
» Download Recommendations to transport and storage (215 kB)
Shipping
The final products are shipped to the customers via truck, railway, ships or transportation directly from our covered storage yard.

LEAVE US YOUR DETAILS
AND WE'LL GET IN TOUCH

Tell us about your company.

CONTACT

JURAJ BOLF
Director Sales Prepainted
+421 556 739 493
+421 904 704 103

jbolfsk.uss.com
U. S. Steel Košice, s.r.o.
Vstupný areál U. S. Steel
044 54 Košice
Slovak Republic
Phone.: +421 55 673 1111
Fax: +421 55 673 1110
ID No.: 36 199 222
VAT ID: SK7020000119
Commercial Register: District Court Kosice I, Sec.: Sro, File No.: 11711/V