4/30/2018
U. S. Steel Košice has been given an award as the Best Global Strategic Partner for 2017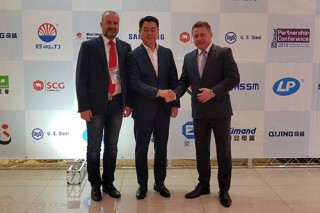 Author:
-ker-
U. S. Steel was awarded  recently as  the Best Global Strategic Partner for 2017 by Samsung Group, one of the largest consumer electronics and home appliance manufacturers in the world.  As reported by Peter Dzurovčin,  Director Sales Appliance  of U. S. Steel Košice, the  Award was handed over to colleagues from Kosice  in Suwon, South Korea, on April 25, 2018. The event was  attended by  Samsung's Senior Vice President Digital Appliance Business  Mr. Seunghwan Ko, Vice President    Mr. Yemok Yang  and Vice President    Mr. Kwangwoon Bae.
"Samsung invited to the ceremony  twelve vendors from around the world, with U. S. Steel Košice being the only representative from all over Europe and even in the world comparison U. S. Steel was recognized as the most  professional and reliable partner," Peter Dzurovčin said and added, " They  invited us for three times to come on the stage, and during the evening guys from Kosice commercial department were sitting at the right of Samsung Group's top management representative, which means maximal respect and recognition paid by the host of the evening," describes the impressive evening  Peter Dzurovčin.
"All this is the result of the specific effort of several teams from U. S. Steel Kosice who have concentrated on our strategic customers over  several years period . This underlines our razor sharp focus on delivery and safe production with excellent quality for reasonable price. I am happy about the award which is the culmination of the efforts of thousands of people working in Kosice plant, " says president U. S. Steel Kosice , Scott Buckiso.
 U. S. Steel Košice has begun  working  with three Samsung manufacturing plants (one of the appliance and two TV manufacturers), and based on good experience, Samsung is preparing further cooperation with U.S. Steel as a supplier for Samsung  factories in Egypt and Russia.