Hot rolled steel for




laser processing


 
SHARPCUT® is a new item in our portfolio of hot rolled products. It enables you to cut with the highest level of precision and attention to detail.
BENEFITS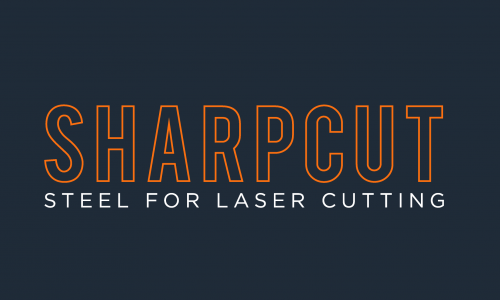 Cut extremely fine contours with clean edges
SHARPCUT® is hot rolled steel with special characteristics, reduced internal stress and improved flatness according to EN10029/10 (S class). This makes it a perfect input material for your laser cutting line.
Using laser to process steel comes with many benefits. Not only does it allow you to cut extremely difficult shapes and patterns, it enables you to do so in one operation. Moreover, you can utilize your resources to the maximum taking advantage of positional accuracy.
CHARACTERISTICS



Clean edges


and the highest
level of precision
let you cut with
maximum
utilization
Application

SHARPCUT® is delivered as construction grades, drawing grades and high strength low alloy grades in the form of sheets. It is suitable for wide use, from heavy-loaded elements (such as bridges) to smaller design parts with high level of detail.
Additionally, production of yellow goods and even shipbuilding industry might take advantage of Sharpcut's characteristics. Moreover, you can use these super-flat steel sheets to produce rigid parts like wagons as well as heating equipment.

Highly protective packaging

SHARPCUT® comes with better packaging that keeps it clean and protected from weather so your material is always delivered in ready-to-use condition.
TECHNICAL DETAILS



Thickness
3,00 - 12,00 mm
Width
700 - 1 500 mm
Length
2 000 - 12 000 mm
Weight of bundle
1 - 10 mt (max heigth 400 mm)
Finish
Mill
Flatness
Restricted tolerance according to EN10029/10 (S class)
 
  Grade
  Standard


Structural
 

  S185, S235, S275, S355
  EN10025/10


Drawing
 

  DD11, DD12, DD13, DD14
  EN 10111/08


High-strength low alloy
 

  S315MC, S355MC, S420MC,
  S460MC, S500MC, S550MC

  EN 10149-2/13
DOWNLOAD



We offer flexible product delivery with multiple options for packaging and methods of transportation.
Shipping
The final products are shipped to customers via truck, railway, ships or transportation directly from our covered storage yard.

LEAVE US YOUR DETAILS
AND WE'LL GET IN TOUCH

Tell us about your company.


MIROSLAV MAĎAR
Director Sales


Slovakia


 
+421 556 739 307
+421 903 656 284

mmadarsk.uss.com

DOVDON TUGSBAYAR
Managing Director
U. S. Steel Bohemia - a.s. 
(Czech)
+420 226 201 550
+420 777 0022 40

dtugsbayarsk.uss.com

MILAN MALÍK
Director Sales


Poland


 
+421 556 734 654
+421 903 627 471

mmaliksk.uss.com

DUŠAN DZUROVČÍN
Director Sales


Austria, Hungary, Ex-Yugo, Italy


 
+421 556 734 538
+421 917 731 813

ddzurovcinsk.uss.com

VIKTOR UDODIK
Director Sales 

East & South Europe, Scandinavia & Export
+421 556 734 279
+421 903 656 981

 vudodiksk.uss.com

ROBERT KRAMER
Sales Office Europe
U. S. Steel Germany
GmbH.
+49 211 447292 12
 

rkramersk.uss.com

FREDERIC SZTOR
Sales Office Europe
U. S. Steel France
S.A.
+33 3 8768 1145
 

fsztorsk.uss.com

MARIAN KOSTAC
Senior Director
Sales Europe
+421 904 704 022
 

mkostacsk.uss.com
U. S. Steel Košice, s.r.o.
Vstupný areál U. S. Steel
044 54 Košice
Slovak Republic
Phone.: +421 55 673 1111
Fax: +421 55 673 1110
ID No.: 36 199 222
VAT ID: SK7020000119
Commercial Register: District Court Kosice I, Sec.: Sro, File No.: 11711/V